We are the Guíld of Dívíne Soldíers [GoDS], a casual guild within the Gate of Madness.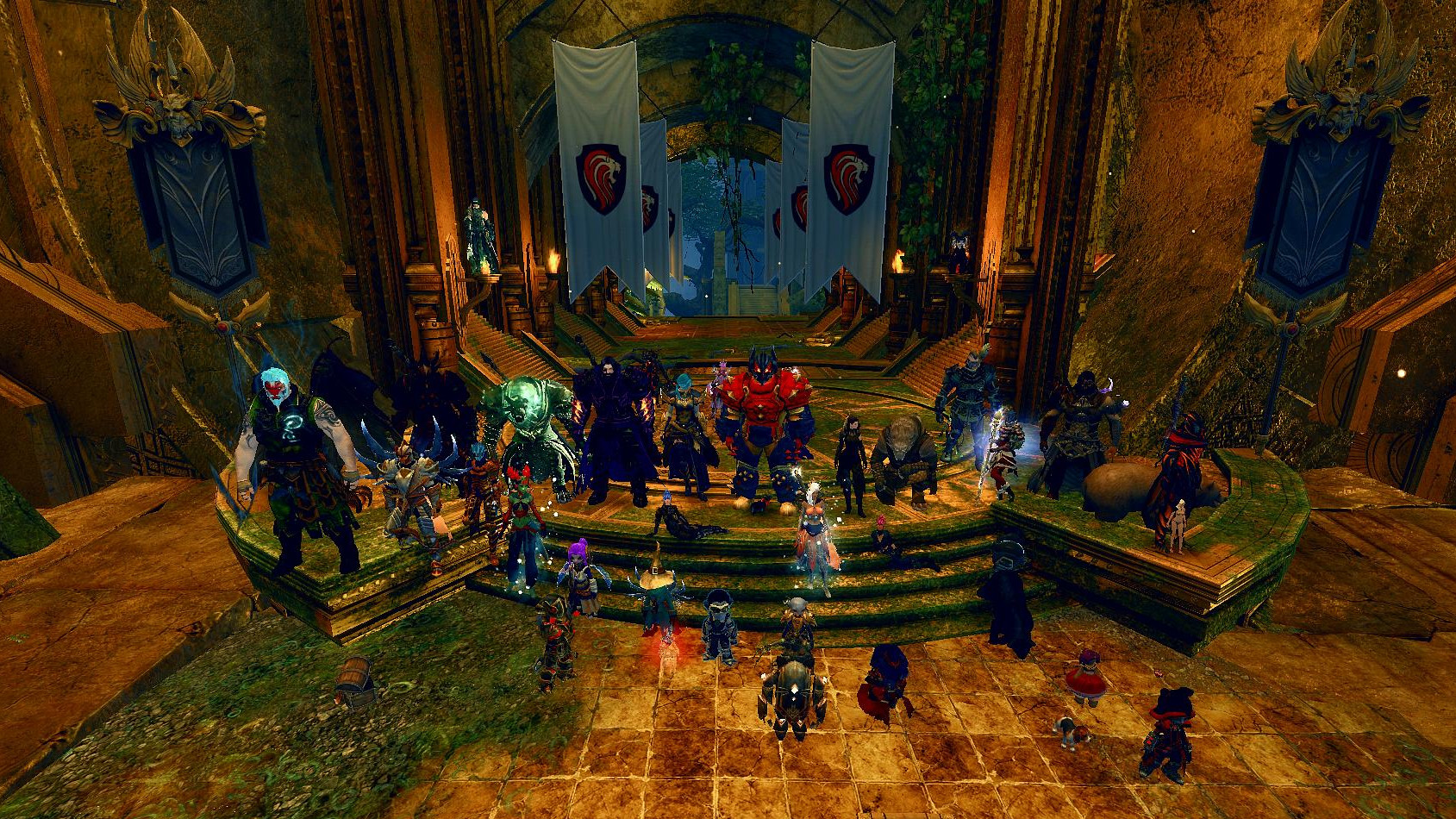 We do all kinds of stuffs, from world boss trains to dungeons, map exploration to guild missions, WvW to PvP. We have 24/7 guild buffs and many nice people and good players.
We are a family.
We welcome any and all kinds of players to join our guild.
Message TripleT.6571 (Fus Ro Doh), cvpcs.5914 (Makina Karanai), Malleus.2908 (Optimus Prime Time) or Tanith.5264 (Tanith Fencewalker) in game for a guild invite.
Basic information
We are a North American casual guild primarily on the Gate of Madness server in Guild Wars 2. We are a medium-size guild with more than 400 guild members, including 60+ active players.
Benefits include:
We have the Gilded Hollow Guild hall with all the buffs unlocked and currently Guild Level 50+.
Guild missions (bounty + puzzle + challenge + rush) every Saturday night at 1am server time (UTC).
Active groups and commanders in world boss farming, WvW, dungeons, and PvP.
Guild ranks
We currently have nine ranks for our guild:
| | |
| --- | --- |
| | guild leaders |
| | guild officers who have dedicated to help and provide/maintain services for the guild in and out of game |
| | guild generals who are permitted to place guild decorations |
| | guild officers who organize activities and manage upgrades |
| | active members who always represent and contribute to the guild |
| | guild members who participate in guild activities |
| | new guild members and non-80 players |
| | members from allied guilds |
| | members with free-to-play accounts |
Current Commanders include:
Superheroman (founder of the guild, retired)
X E L L O S S (retired)
Fus Ro Doh
Inquest Officer (retired)
Makina Karanai
Optimus Prime Time
Representation
We would like to have guild members representing our guild in order to receive guild buffs, enjoy chat in the guild channel, and contribute influences to the guild so that we may maintain buffs and upgrades. However, we do not force our members to represent as long as they participate in guild missions when they are online. Note, however, that members of rank Soldier or higher are expected to rep 50% of the time they are online or they may be demoted, and players who do not rep regularly may be kicked if our roster reaches its maximum size.